Our inclusive, flexible venue is the perfect base for governing bodies, clubs and schools to host residential sports groups. In addition to sports training, the centre is also a venue for events, conferences, board meetings and groups from a range of partner and third sector organisations, keen to utilise the inspirational setting of national centre for sport.
The centre's expansive 83 acre estate with the main centre building incorporating all residential, dining and meeting facilities are under one roof.
Accommodation
National Centre Inverclyde has 60 modern twin bedrooms, all rooms have an en suite wet room.  Each floor has secure access to keep everyone safe.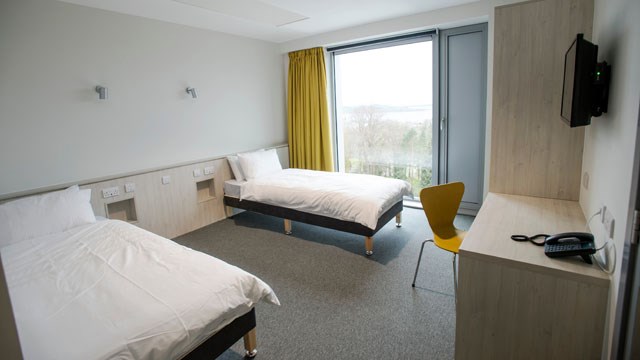 All rooms can accommodate two wheelchair users.
Catering
Nutrition is an essential component of any athlete's successful training schedule, we offer offer high-quality, well-balanced and nutritious meals and snacks, freshly prepared on-site provided by our experienced catering partner Elior UK.  Elior work with a number of performance venues across a number of sports successfully catering for athletes needs. Alongside our standard offering we offer a range of performance menus such as additional protein, to those athlete groups that require it.
We can of course accommodate tailored or customised menus on request. 
Sports facilities
We can cater for a vast range of sports and training needs.  The centre has the following sports facilities on-site:
Grass pitches x 5 Outdoor and indoor 3G pitches
Large sports hall
Gymnastics hall
Fitness suite - large performance gym and 2 studios including a spin studio
Tennis courts
Multi-court
Golf training centre for short game practice
We also have extra facilities such as physio and first aid rooms, hot and cold therapy baths, café and meeting room spaces to suit groups of all sizes.
Use of the fitness suite
Groups can use the fitness suite and/or the physical preparation area for their sole use.  Please speak to our bookings team for information and the cost associated with this.  Sole use must be booked in advance.
Sport specific information
We also have information specific to sports:
Meeting rooms and event spaces
We have a range of meeting and studio spaces onsite for residential groups to utilise on a pre booked basis during their stay.  All of our four dedicated meeting room have in built AV and provide the ideal location for team briefing sessions for our governing body and club groups.
Testimonials
 We have a playlist of testimonial interviews with governing bodies and clubs - watch below:
Gary Moore, Active Schools & Communities Partnership Officer for North Ayrshire, sat down with us to tell us about the different groups he brings to the centre, and how a residential visit to Inverclyde benefits these groups: